Choose What Best Suits You
Talk to us and decide which service best suits you. We can discuss which method of sale; private treaty, online or onsite auction, will get you the best price. It is that simple.
Love to promote your own home? No one knows it better than you!
You do that and let us do everything else.
We Will:
Discuss comparable homes sold
Help you get an idea of your home value
Discuss different methods of sale
Coordinate and manage the essential marketing campaign (all costs included)
Manage any other marketing requirements you may have (stylist, paper adverts etc)
Be the first point of contact for buyers
Forward enquirers directly to you
Provide you with access to our unique online "members area" and digital tools
Allow you to control everything about your sale from here
Promote your property via our database and social media channels
Stand beside you every step of the way
Help with exchange of contracts (we do exchange if online auction)
Prefer us to host your open homes ? No problem. Sit back and let us take care of it for you.
We will:
Walk through your home's selling features and suggest improvements that could lift your price
Show you what comparable homes sold for
Recommend a target price and best method of sale
Discuss the optimal marketing plan (essentials included in fee)
Coordinate and manage the campaign
Promote your property via our database and social media channels
Host all the open for inspections and engage with buyers
Negotiate the optimal price for your property
Coordinate exchange of contracts (we do exchange if online auction)
Have a particular way you want to sell ?
Do you have a highly unique property and specific needs?
Call us to discuss and let us help sell your property.
The Perfect Offer/Bid & Exchange
Once you get an offer, the market can be automatically alerted. Get in fast as it may soon be sold! Or if online auction, all bidding is visible to the market, alerts fired out to underbidders. Everyone is given a fair chance to outbid and drive your price. We automatically exchange contracts for you if sold via auction. We assist exchange on a private treaty deal.
The Premium Marketing Campaign
We only market your property one way, and that's Premium. Nothing less. It is the key driver to securing your buyer.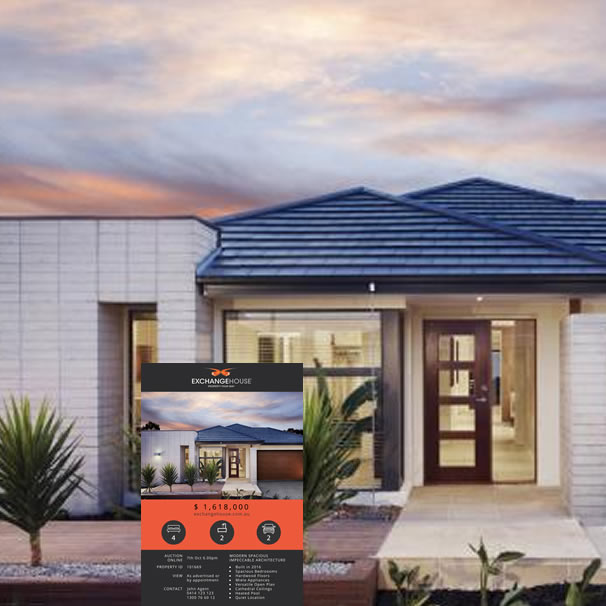 Home Dashboard
ExchangeHouse Recommends
ExchangeHouse Features
Agent Profiles
Time for Technology
At every step, ExchangeHouse technology makes it easy to get the best price for your home via Concierge package.
Online Dashboard
Your members area dashboard allows you to control every critical element of your sale. See who is watching or registered to bid, manage enquiries, set your reserve, adjust bid dates and more...all at a keystroke now!
Enquiry management
Customer service is at the heart of ExchangeHouse. We personally take every call. Greet and engage buyers. Our technology then makes sure you get their details immediately. They are also automatically logged in your inspection
e-manager. Now just for you to connect with them!
Inspection e-Manager
Simply log each buyers details after each open home, to follow them up and track progress. It's easy to stay connected with buyers now.
Watchers function
Encourage enquirers and inspectors to "tag and watch" your property.
They are then automatically alerted to all activity you create.
Auto email/SMS alerts to buyers
It is easy for your property activity to be noticed now. Change the reserve, move dates, post comments...our alerting system is then your megaphone!
All watchers are instantly alerted.
e-Noticeboard
Post comments about your home, engage with buyers, excite the market. It's all about emotions. Your comments are automatically sent to all those watching.
Online Offers
Update your properties "headline" whenever an offer is made to alert watchers/buyers that it could soon be sold!
Online Auctions
This is where ExchangeHouse was born. It's technology comes to the forefront. Unique rules and ultimate convenience opens up the market and maximises your price.
Online bidders registration and bidding
Streamlined, fast and convenient. A real plus and attraction for buyers to bid for your home.
Streamlined automatic Exchange
Sell via online auction and we will exchange on your behalf. Quick and easy.
The buyer pays your solicitor the required deposit within 48hrs.
Our Results
Last year our platform and technology was only available to external Agents. It facilitated many successful online sales with very happy vendors!
We also had a number of stand-out online events.
After such an exciting year, we are now opening up the platform and our technology DIRECT TO SELLERS We now combine our technology with superior vendor service to bring a NEW BREED OF AGENCY to the market. Much needed and long overdue... technology meets traditional service to deliver you the best price for the smallest fee.
How You Save
ExchangeHouse charges less to sell your home. A first for the industry, our Agency lets you decide how you want to sell.
We believe all sellers are different, no two houses are the same. One size does not fit all. So why give you only one way to sell. With ExchangeHouse, you choose the best way you want to sell and how much you want to save. It's that simple.
Home Price

$1,000,000
Savings

$17,005
Home Price

$1,500,000
Savings

$26,505
Home Price

$2,000,000
Savings

$38,005